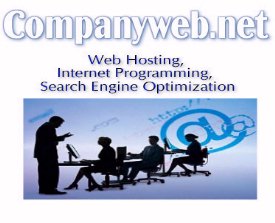 If your company needs web design, web application programming, script installation or web hosting, send email to help@companyweb.net or call us at 412.253.4160 for a quote or just to ask a question.

Biz Tips Article

Biz Tips Article is syndicated from Web-Source.net.

Syndicated articles are written by independent authors and the contents represent the author's views. The content of the article does not necessarily represent the views of Company Web staff and management.

---
DrNunley's Biz-Tips

by Dr. Kevin Nunley

Newspaper Publicity

Marcie told me, "I've tried sending out a few press releases to the newspaper, but they never print them." Here's why. Newspaper editors look for press releases that are "newsworthy." Newsworthy simply means that the story is one that lots of readers will find interesting.

I asked a newspaper editor what she looked for and here are some of the guidelines she gave:

Editors like stories where people overcome adversity or perform acts of kindness.

Editors like stories that appeal to a wider audience and transcend your neighborhood or industry.

Editors like stories that give the reader some kind of emotion: happy, mad, afraid, proud.

Keep in mind that news must be new. An event that happened months ago will not be of interest to the newspaper. Of course, if something new happens that closely relates to an event months ago, the old event could become news again.

Don't get discouraged if your first press releases don't get into the paper. Look over them and think what you could do differently next time. Newsworthy-ness is the key.

About the Author:

Get long-term marketing with your own article sent to Ezine editors. Kevin writes your custom article, puts your name in the byline, your four line ad at the end, and sends it to 1,300 editors. Articles often get used over and over for months.
Announce your new product, service, or idea with a press release. We write your release for you, get your approval, then email it to 5,000 media nationwide. Visit Dr.Nunley.com. Reach Kevin at

[email protected]

.

More Biz Tips Articles...