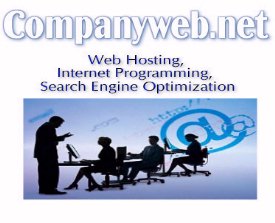 If your company needs web design, web application programming, script installation or web hosting, send email to help@companyweb.net or call us at 412.253.4160 for a quote or just to ask a question.

Biz Tips Article

Biz Tips Article is syndicated from Web-Source.net.

Syndicated articles are written by independent authors and the contents represent the author's views. The content of the article does not necessarily represent the views of Company Web staff and management.

---
DrNunley's Biz-Tips

by Dr. Kevin Nunley

Enjoy Easy Sales With Visionaries

One of the first groups of customers to buy a new product or service are visionaries. These are people who immediately recognize a change that will give them an advantage. They want to use the advantage NOW, before everyone else gets on the bandwagon.

Visionaries generally don't worry too much about details. They intuitively seem to know when something new is for them. They want to hear your emotional appeal, the sizzle in the steak, the promise of great things to happen.

Many sites that paint a glorious picture of what your life will be like when you buy their product or service are going after visionaries.

It is an easy crowd to sell to. Visionaries tend to find a good product, service, or idea even without much advertising. Once visionaries find you, they don't need a lot of time and details before they buy.

Visionaries want a quick idea of what you have to sell them. Then they want to buy and get started as soon as possible.

More often than not, when someone says their site isn't selling, it is because they aren't hooking visionaries. Sales pick up as soon as the website owner includes a short, exciting description of the benefits their product or service provides.

About the Author:

Get long-term marketing with your own article sent to Ezine editors. Kevin writes your custom article, puts your name in the byline, your four line ad at the end, and sends it to 1,300 editors. Articles often get used over and over for months.
Announce your new product, service, or idea with a press release. We write your release for you, get your approval, then email it to 5,000 media nationwide. Visit Dr.Nunley.com. Reach Kevin at

[email protected]

.

More Biz Tips Articles...