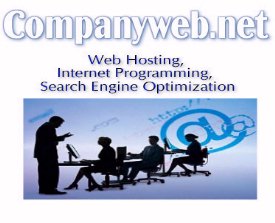 If your company needs web design, web application programming, script installation or web hosting, send email to help@companyweb.net or call us at 412.253.4160 for a quote or just to ask a question.

Biz Tips Article

Biz Tips Article is syndicated from Web-Source.net.

Syndicated articles are written by independent authors and the contents represent the author's views. The content of the article does not necessarily represent the views of Company Web staff and management.

---
DrNunley's Biz-Tips

by Dr. Kevin Nunley

Keyword in Your Title

Recently I spent a lot of time looking up competitors in major search engines. By far the biggest factor in determining who got listed in the top ten of every search engine was this: put your main keyword--the one people will use to search for you--as the FIRST word in your title.

If you haven't done a lot of web design, the title is that line of text that appears in a little box at the top or bottom of your browser. It goes in the HTML code near the top of your page.

For example, if I were going to put up a page on writing keywords and wanted it listed high on search engines, I would write it:
keyword in your title gives you top search engine listings

Notice I don't capitalize the K in keyword. Search engines will match the way you write the word to the way users type the word when they're searching for you. keyword is different from Keyword is different from KEYWORD. Most people search using terms typed in all small letters.

About the Author:

Get long-term marketing with your own article sent to Ezine editors. Kevin writes your custom article, puts your name in the byline, your four line ad at the end, and sends it to 1,300 editors. Articles often get used over and over for months.
Announce your new product, service, or idea with a press release. We write your release for you, get your approval, then email it to 5,000 media nationwide. Visit Dr.Nunley.com. Reach Kevin at

[email protected]

.

More Biz Tips Articles...