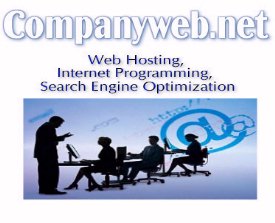 If your company needs web design, web application programming, script installation or web hosting, send email to help@companyweb.net or call us at 412.253.4160 for a quote or just to ask a question.

Biz Tips Article

Biz Tips Article is syndicated from Web-Source.net.

Syndicated articles are written by independent authors and the contents represent the author's views. The content of the article does not necessarily represent the views of Company Web staff and management.

---
DrNunley's Biz-Tips

by Dr. Kevin Nunley

How to Promote Your Site to Success... In Just Two Weeks

I don't know about you, but I like to achieve success in a hurry. There is a lot to be said for doggedly working year after year to get what you want, but isn't the whole thing just a whole lot easier when success comes FAST?

Here are several proven ways to get more traffic, better sales, and bigger profits for your web site....in JUST TWO WEEKS.

1. Start by adding a load of killer info to your site. The Internet turns on good FREE information. Figure out what things your best customers are most interested in and pack your site with stories, facts, and how-to's on that topic. Find out what people are interested in by looking at the most often used search topics at SearchEngineWatch.com.

2. Now, hop over to Yahoo and hold your nose while you fork over $199 to get the Yahoo Express service. It's worth it. They will look at your site within a week and, more often than not, list your site in their directory. Why is this worth $200? Forty percent of ALL people who use search engines use Yahoo. We're talking about thousands of hits for your site almost immediately.

3. While you're at Yahoo, place your ad in their free ad area. Nothing else in the free ad world pulls as well. Then jump over to AOL.com and place your classified ad for as little as $2 for two weeks. Fifty-five MILLION people find their way through that site every week.

Now that you've caught the Internet ad fever, be aware that there are THOUSANDS of free ad sites. Posting to each one would take you years. Fortunately, there are automated programs that will place your ad on hundreds of free ad sites. You can find more information on these methods on my web site.

4. Find several discussion groups, either on people's web sites or on UseNet, and become a regular. Ask questions, give advice, and ALWAYS promote your site in a four to six line ad at the end of your messages.

These four simple methods can get your web site counter humming inside of two weeks. Put great content on your site, get listed on Yahoo, place ads on key sites, and make yourself known to people in your industry by participating in discussion groups.

About the Author:

Get long-term marketing with your own article sent to Ezine editors. Kevin writes your custom article, puts your name in the byline, your four line ad at the end, and sends it to 1,300 editors. Articles often get used over and over for months.
Announce your new product, service, or idea with a press release. We write your release for you, get your approval, then email it to 5,000 media nationwide. Visit Dr.Nunley.com. Reach Kevin at

[email protected]

.

More Biz Tips Articles...