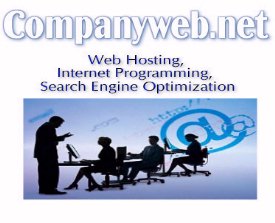 If your company needs web design, web application programming, script installation or web hosting, send email to help@companyweb.net or call us at 412.253.4160 for a quote or just to ask a question.

Web Tips Article

Web Tips Article is syndicated from Web-Source.net.

Syndicated articles are written by independent authors and the contents represent the author's views. The content of the article does not necessarily represent the views of Company Web staff and management.

---
Courtesy of Web-Source.net

What Does Your Web Site Convey to Your Visitors?

ALWAYS check and double-check your web site for spelling errors and make sure your images and links are all working properly.

If you have several errors, this will make your site appear to be unprofessional. If you are designing your site using an HTML editor, use spell check. Proper grammar is also very important.

If you've been out of school for a while, it's probably a good idea to refresh your memory. Visit any of the following sites for a crash course in writing and grammar.

Guide to Grammar and Writing

A Blue Book of Grammar and Punctuation

Exploring English

Take some time to really look at your web site. Read your copy many times over, as some mistakes your spell check won't catch.

A well designed, professionally presented web site will make the sales.

More Web Tips Articles...