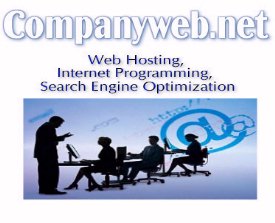 If your company needs web design, web application programming, script installation or web hosting, send email to help@companyweb.net or call us at 412.253.4160 for a quote or just to ask a question.

Web Tips Article

Web Tips Article is syndicated from Web-Source.net.

Syndicated articles are written by independent authors and the contents represent the author's views. The content of the article does not necessarily represent the views of Company Web staff and management.

---
Courtesy of Web-Source.net

Can Your Visitors Trust You?

More and more, privacy is becoming an important issue with your visitors. They want to know exactly what you're planning to do with their personal information you collect.

Create a page on your website called, "Privacy Statement," and let your visitors know your intentions:

How do you plan on using their information?

Is their information sold or shared with a third party?

Why do you collect their email address and how will it be used?

Why do you track their IP address?

Let your visitors know that you're not responsible for the privacy issues of any outside websites you may be linking to.

Why do you use order forms and what do you do with the information acquired?

Do you run contests and what do you do with the information?

Do you have a discussion forum or message board? Let your visitors know that any information that is disclosed in these areas becomes public information and they should exercise caution.

Do you have security measures in place to protect the loss, misuse and alteration of the information under your control? If so, let your visitors know.

Let your visitors know how they can opt out of your mailing lists.

Provide your visitors with your contact information, should they have any questions in regard to your privacy statement.

You must do everything in your power to make your visitors feel as comfortable with you as possible. Your success depends on it.

Copyright © Shelley Lowery 2002-2004

Web Design Tips is an excerpt from Web Design Mastery - An Internet Marketers Copy & Paste Reference Guide. Learn how to design a professional web site in the easiest possible fashion -- with hundreds of copy & paste codes.

More Web Tips Articles...