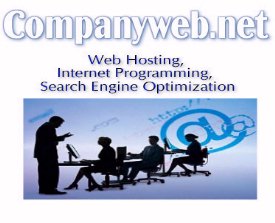 If your company needs web design, web application programming, script installation or web hosting, send email to help@companyweb.net or call us at 412.253.4160 for a quote or just to ask a question.

Web Tips Article

Web Tips Article is syndicated from Web-Source.net.

Syndicated articles are written by independent authors and the contents represent the author's views. The content of the article does not necessarily represent the views of Company Web staff and management.

---
Courtesy of Web-Source.net

Selecting the Perfect Background and Font for Your Website

When selecting a background for your website, make sure you select a background that will compliment your text and design.



Tips for design:

Busy backgrounds make text difficult to read and draw the attention away from the text.

Always be consistent with your background theme on each page of your site.

Colors affect your mood and will have an affect on your visitors as well. Bright colors such as yellow and orange, cause you to become more cheerful or happy, while colors such as blue and purple have a calming affect. Dark colors such as brown and black have a depressing affect. A good rule of thumb is to select colors based upon the type of affect you're trying to achieve.

When selecting fonts for your text, keep in mind, reading on a computer screen is much more difficult than paper. Try to use a true type font such as Arial or Verdana and avoid fancy fonts that are difficult to read.

The appearance of your website can mean the difference between your success and failure.

Copyright © Shelley Lowery 2002-2004

Web Design Tips is an excerpt from Web Design Mastery - An Internet Marketers Copy & Paste Reference Guide. Learn how to design a professional web site in the easiest possible fashion -- with hundreds of copy & paste codes.

More Web Tips Articles...