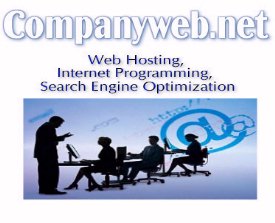 If your company needs web design, web application programming, script installation or web hosting, send email to help@companyweb.net or call us at 412.253.4160 for a quote or just to ask a question.

Web Tips Article

Web Tips Article is syndicated from Web-Source.net.

Syndicated articles are written by independent authors and the contents represent the author's views. The content of the article does not necessarily represent the views of Company Web staff and management.

---
Courtesy of Web-Source.net

Make Sure Your Website Looks Great to Everyone

When designing a web site, your first consideration should be browser compatibility. Your web site may look great when viewed with Internet Explorer, but when viewed with Netscape Navigator, everything may not be formatted properly.

All web browsers are not created equally. View your site through different browsers and screen resolutions so you will see how your visitors will view your site.

A good way to see how your web site will look through both browsers is to download and install a copy of both Internet Explorer and Netscape Navigator.

Netscape

Microsoft

Visit the following web sites to view your web site through different browsers and screen resolutions:

NetMechanic - Provides a variety of free services for your web site including browser compatibility testing, graphic file size reduction, link check, HTML check, load time check, spell check and more.

AnyBrowser - Your source for browser compatibility verification.

Make sure you view your first web page in different browsers and screen resolutions. Once you get it looking great for everyone, you can use it as a template for the rest of your web site. This technique can save you a great deal of time.

Copyright © Shelley Lowery 2002-2004

Web Design Tips is an excerpt from Web Design Mastery - An Internet Marketers Copy & Paste Reference Guide. Learn how to design a professional web site in the easiest possible fashion -- with hundreds of copy & paste codes.

More Web Tips Articles...