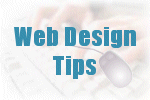 Courtesy of Web-Source.net

Enlarging Text Without the Font Tag

The BIG tag is used to increase the size of your font. You can add additional BIG tags, side by side, to increase your font size even further. For each additional BIG tag you use, your font size will increase.

HTML Code:




Browser View:

Your Text


HTML Code:



<BIG><BIG>Your Text</BIG></BIG>


Browser View:

Your Text

The BIG tag can be used in place of the FONT tag, as they both perform the same task.

Example Font Tag:

<FONT size="3">

Copyright © Shelley Lowery 2002-2003

Web Design Tips is an excerpt from Web Design Mastery - An Internet Marketers Copy & Paste Reference Guide. Learn how to design a professional web site in the easiest possible fashion -- with hundreds of copy & paste codes.